An interactive EPM reporting strategy is leaps and bounds better than relying on static reports. Bringing information to life in the form of dynamic reports helps decision makers access information both broadly and deeply. In the process, they gain a perfect understanding of performance, updated with the most recent data.
As advantageous as interactive EPM reporting may be, it's not always easy to build best-in-class reports. There are countless different ways to condense information and present performance, but only one ideal way. Follow these steps to ensure your interactive reports are as intuitive and illuminating as possible:
Step 1: Choose Your Data Sources
Reporting tools automatically pull data out of your EPM on a daily or even real-time basis, and the best tools can pull from multiple sources. Select as many sources as you need to get a complete overview of performance.
Step 2: Choose Reporting Templates
The quickest way to get started with interactive reporting is to rely on templates created by the developer or by other users. Typically, these templates incorporate best practices for design as well as performance monitoring, and they're explicitly designed to handle the most common reporting needs. Find the models that look and function the way you want. You can also consider building customized reports from the ground up.
Step 3: Select the Dimensions
This is where reporting becomes interactive. Select different dimensions—year, period, entity, etc.—that let users quickly switch up the information they're viewing. The key is to choose the most important dimensions for decision makers, particularly those that enable comparisons between adjacent information.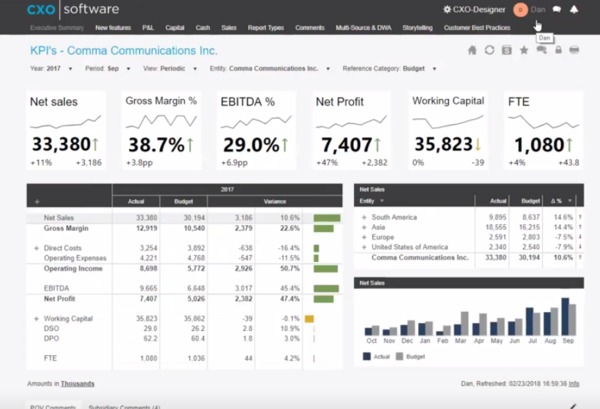 Step 4: Create Multiple Points of View
Much like dimensions, users should be able to view the same information in multiple different contexts. For instance, the section of the report that tracks net sales can indicate how those sales compare to the current budget or the previous year. Being able to give information new context quickly is one of the most critical features of an interactive EPM report.
Step 5: Highlight Information in Tiles
Tiles are bold blocks of information that combine all the details necessary to understand a single key performance indicator like Gross Margin %, Net Profit, or Working Capital. The point of tiles is to put essential information front and center, so that decision makers always have a perspective into performance.
Step 6: Drill into the Data
Static reports are like documents, but dynamic reports are more like portals. On the surface, they condense a lot of information into a digestible format. Underneath that information, however, is all the data that went into calculating specific metrics. In that way, reports become an entry point for exploring every aspect of performance, no matter how minute. Ideally, your reporting tools make exploration as easy as possible.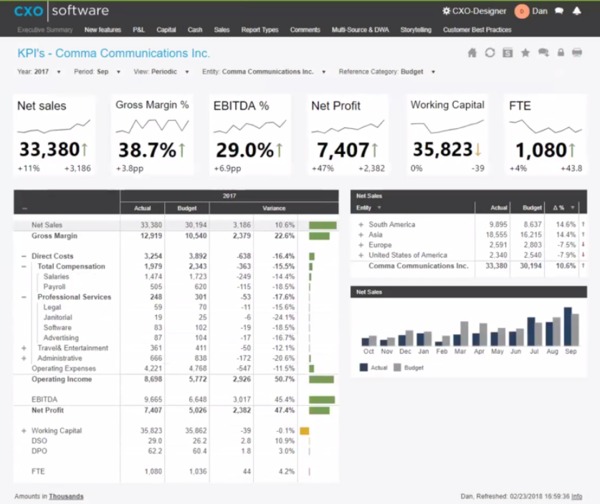 Step 7: Translate Information Visually
Relying on more than just numbers in grids is vital for keeping reports informative. Supplementing the raw data with charts, graphs, trend lines, and indicators (like up or down arrows) helps users make sense of the information. Just as importantly, these features keep reports interesting so that decision makers don't overlook any of the insights inside.
Step 8: Create a Storyboard
Even the best-made reports don't tell the whole story. Understanding the entirety of enterprise performance takes multiple reports, sometimes dozens. After following the steps above to create individual reports, group together reports that are relevant to one another in what's known as a storyboard. Storyboards create a narrative that explains performance. Make sure to include the important reports and exclude all others, and to organize the reports so they build on each other.
Step 9: Always Be Adapting
The final step in an interactive ERP reporting strategy is to always be adapting. Relying on the same types of reports over and over leads to tunnel vision and stale decision making. The better approach is to always be creating new reports that analyze the complicated issue of performance from multiple perspectives. As long as you rely on tools that make it just as easy to create reports as run reports, your company is fully-equipped to understand its strengths and weaknesses.
When you're ready to try interactive reporting hands-on, request a demo from insightsoftware. Our dynamic solutions help streamline and simplify even the most complex reporting processes.