Business intelligence (BI) has quietly transformed the global economy over the last 20 years. Now nearly all companies rely on in-depth data in order to inform their decision making. The value of the data is irrefutable; it's the volume and accessibility that have often caused problems.
Data is filled with important and actionable insights, but that's not always easily definable within a sea of facts and figures. While companies have the data and the means to analyze it, when the output is a spreadsheet bursting with details, it's hard to turn analytics into actions. 
Rather than trying to condense data, consider translating it instead. Visual analytics present large (or small) amounts of data as charts, graphs, or other representations. In this format, data becomes both easier to understand and more instructive. Visual analytics may sound like a minor tool, but it's actually the key to unleashing your data and making the most of BI. Here's what happens once you can see your data through visual analytics.
Focus on What Matters Most
Data is brimming with insights, some more vital than others. Visual analytics help you focus on what matters by highlighting the relationships between data. If one number in a report is wildly higher than all the others, that fact is more apparent in a bar chart than a spreadsheet. Without visual analytics, it's easy to overlook or misinterpret the signals in the data. Those signals come through immediately, loud and clear when data is expressed visually.  
Engage Non-Technical Users
Data scientists and IT experts are often required to build reports that accountants and finance professionals then have to make sense of. Multiple stakeholders could benefit from the reports, but few may actually be able to access or understand them. Visual analytics solves this problem in two ways: First by making the report generation process as easy as dragging and dropping the necessary elements. Second, visual analytics express reports in a format that is instantly understandable. If reporting is universally valuable, visual analytics makes it universally accessible as well.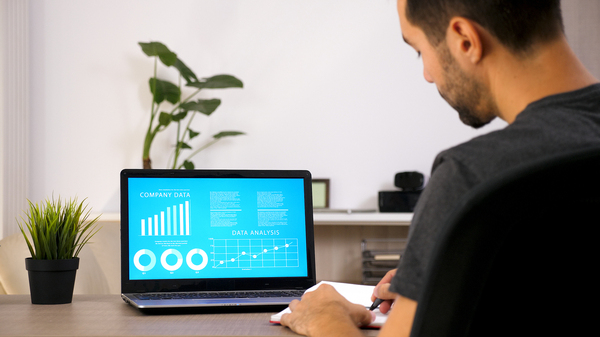 Turn Data into a Dynamic Asset
Despite what some might think, visual analytics are not the same as chart and graph tools in Excel. They may display information similarly, but visual analytics display information dynamically as well. Visual analytics are not static. Instead, they change as enterprise resource planning (ERP) data is updated in real-time, or as users choose to add or exclude different data sets. In practice, visual analytics offers a whole new perspective on performance, one that keeps perfect pace with day-to-day and even moment-by-moment changes. 
Add an Extra Layer of Mobility
Data shouldn't remain trapped in the office. It needs to be accessible to people working from home or to sales staff presenting a pitch in a client's office. Visual analytics can make data available on mobile devices even without an internet connection. Visualizations are also ideal for consuming data quickly and on-the-go. Finally, creating visualizations is one of the best ways to make data more accessible, impressive, and persuasive to prospective clients or partners. Visual analytics makes data as portable as possible. 
ERP with Vitality: Leveraging Visual Analytics
If you rely on ERP from popular vendors like JD Edwards, SAP, Microsoft Dynamics, or others, you know the reporting capabilities can be underwhelming. Working with an ERP reporting tool like Hubble is the way to turn data into insights. Working with a visual analytics tool like DecisionPoint that integrates perfectly with Hubble is the way to turn those insights into inspiration and ideas. In fact, when the Australian Development Society began enhancing reports with visualizations its client base quadrupled. Experience just how expressive your data can be.