Most companies understand that data is the fuel of their future success. Today's technologies allow executives to condense vast amounts of data into actionable insights that lead to improved decision-making and bold, strategic thinking.
Considering how much emphasis companies are putting on leveraging data, it comes as a surprise to learn that only 27 percent of respondents in a recent survey from the MIT Sloan Management Review believe their decision-making is "data-driven," compared to 38 percent who describe it as "intuitive." Companies may want to become more data-driven, yet few are succeeding.
Oracle EBS users already have powerful tools for data collection, storage, and organization at their disposal. If they're not getting the insights they need out of the data they have, the problem rests squarely on reporting. Transforming data into insights can be a time- and labor-intensive task that can take days of input and still deliver underwhelming reports, but it doesn't have to be. Optimize your Oracle EBS reporting using these smart strategies.
Leverage Familiar Tools: Reporting is meant to improve daily decision-making, so it's only logical to base it on an everyday tool like Excel rather than an entirely new interface. Users become a lot more engaged with the reporting process when it's immediately familiar to them.
Integrate More Data:  Reports are only as good as the underlying data. Reporting may need to include data from outside the Oracle EBS ecosystem, which creates a big burden if the reporting team has to find and integrate it manually. Working with reporting tools that automatically integrate financial and operational data in one place eliminates the need to search for it.
Report in Real-Time: Reports become irrelevant soon after they're created, which is why companies have to restart the reporting process over and over. Creating reporting templates that automatically update themselves with the latest data gives decision-makers the most accurate look at performance possible while eliminating the distraction of recurring reporting.
Empower the End-User: Optimized reporting means that average users can create their own reports on-demand without needing help from IT or specialized training. Empower the end-user by choosing reporting tools based on how intuitive and accessible they are.
Choose Dynamic Designs: Static reports filled with facts and figures do a poor job of communicating the insights within. Choose dynamic designs that incorporate visualizations and allow users to drill down into the data. Being able to quickly customize the look, layout, and data fields are also important.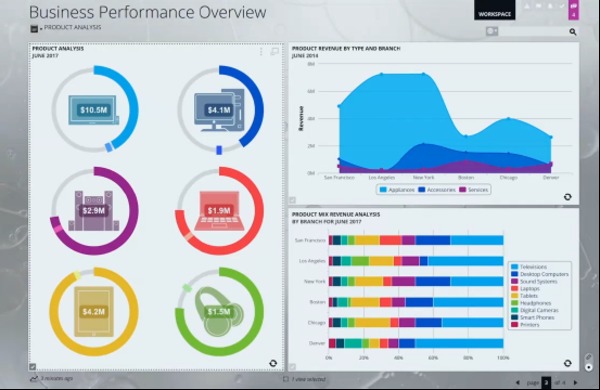 It's worth thinking about new approaches to reporting because Oracle EBS is making the old approaches impossible. Oracle suspended support for the Discover reporting tool in 2017, and though it still has users, the end of this application is fast approaching. Where should you migrate to get the optimized reporting you want and need? Consult this free resource to explore all your options.